Sorry!
Your search did not match any word(s).
Follow our simple search tips for improved results. Feel free to contact us for any assistance. Just click the button below.
Search tips:
- Check the spelling;
- Use different keywords and word combinations;
- Remove filters to clarify the search.
Export from Saint Martin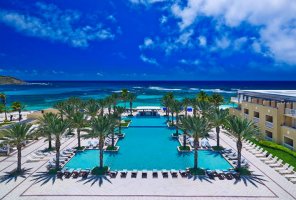 St. Maarten's economy is based on tourism accounting for 80% of the economy and about four-fifths of the labor force is engaged in this sector. Nearly 1.8 million visitors came to the island by cruise ship and roughly 500,000 visitors arrived through Princess Juliana International Airport in 2013. Cruise ships and yachts also call on Sint Maarten's numerous ports and harbors. Limited agriculture and local fishing means that almost all food must be imported. Energy resources and manufactured goods are also imported. Sint Maarten had the highest per capita income among the five islands that formerly comprised the Netherlands Antilles.
As an island in the Caribbean, Saint Martin enjoys the kind of weather and natural geography that supports tourism. Its proximity to the rest of the Caribbean has also provided economic benefits with the airport serving as the main gateway to the Leeward Islands and the larger post-Panamax cruise ships making regular stops to the island. For more than two centuries, exports have generally been salt and locally grown commodities, like sugar.
The island offers duty-free shopping. There are few business restrictions to hinder growth. Though the French (north) and Dutch (south) parts differ slightly in terms of their economies and types of tourists, they share the Caribbean's largest lagoon, which has been populated by yachts.
The top exports of Saint Maarten are gold, scrap copper, hard liquor, refined petroleum and precious metal scraps.
The top export partners of Saint Maarten are the United States, Belgium-Luxembourg, France, the Netherlands and Sweden.
Import to Saint Martin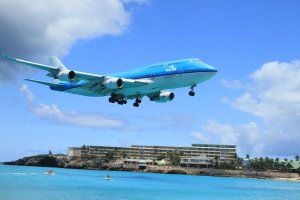 St. Maarten enjoys a Duty Free status with no import or export taxes. This allows for the tariff free importation of raw materials for construction and manufacturing as well as tax free exportation of finished goods to be sold in foreign markets. These attributes make St. Maarten ideal for investment. Furthermore, as an overseas country of the Netherlands, St. Maarten receives more favorable trade relations with the European Union making exports to that market more viable.
The Euro the official currency in Saint Martin (French/North). The island has a high import dependency, making the it vulnerable for strong price fluctuations of both oil and foodstuffs.
Air transportation to Saint Martin and the whole island is served by Princess Juliana International Airport, which is well known for its very low final approach landings close to a popular beach at the end of the runway. Winair (Windward Islands Airways) has its headquarters on the grounds of the airport. There are no railroads on the island.
St. Maarten's economy is mostly based on tourism, either from tourists staying on the island or day tourists from the many cruise lines that dock in the Philipsburg Harbor.
Saint Maarten's top imports are jewelry, refined petroleum, base metal watches, cars and other edible preparations.
The top import partners of Saint Maarten are the United, the Netherlands, France, the United Kingdom and Switzerland.
Buying Cattle is an important part of raising cattle and adding money to your business. Export Portal Live Animals Department is an online market for sellers and buyers of any type of livestock.
The portal features a wide range of pigs, cows, sheep, goats, horses, rabbits and hares, turkeys, bees and fish for sale. An increasing number of the American, Australian, German, South African, Argentinian or Italian farmers and companies are daily advertising their livestock with Export Portal.
To help you make a more informed purchasing decision, you can refine your livestock search by age of the animals, breed and sex. Check also detailed live animal seller ratings as well as seller reviews written by buyers and customers. We also collaborate with hundreds of trusted international shipping companies that arrange transport of all kinds of animals and birds to any country in the world.
Export Portal is your one stop destination for all your shopping needs.
Customs requirements of Saint Martin
Saint Martin Customs Contacts
Email: pdf-stmartin@douane.finances.gouv.fr
Phone: +1 590 29 55 48/+ 1 690 22 29 68
Saint Martin, officially named Collectivity of Saint Martin, is an overseas collectivity of France situated in the Caribbean. It comprises the northern 60% of the divided island of Saint Martin, and some neighbouring small islands. Saint Martin is a member of the Universal Postal Union and the World Federation of Trade Unions.
Tariffs
Even if Saint Martin is a part of the customs territory of the European Union, the island has a special "free port" status, which means that products imported into the territory aren't subject to any import tariffs. The only existing customs tariff is levied on petroleum products. VAT taxes, as well as excise duties, also do not exist in Saint Martin.
Import regulations
The French Overseas Departments, such as the Collectivity of Saint Martin, Reunion Island, French Guiana, Guadeloupe and Martinique are a part of the customs territory of the EU, but they are not a part of its fiscal territory. As a result, the same documentary requirements as for trade with the EU countries are imposed.
Importers are required to provide the following documents:
- VAT invoice
- Import licenses
- Shipping documents
- Customs declaration
- Certificate of origin
- Health certificate and phytosanitary certificates
The phytosanitary requirements applied for wood packaging comply with the EU regulations
Details can be found on the official website of the Ministry of Agriculture:
http://agriculture.gouv.fr/le-programme-de-conformite-une
Sources:
http://www.com-saint-martin.fr/PressReleases/Documents%20PDF/Doing_business_in_Saint-Martin_UK_06_2014.pdf
http://www.bretagnecommerceinternational.com/wp-content/uploads/2014/06/ExporterverslesDOM-TOM.pdf