Sorry!
Your search did not match any word(s).
Follow our simple search tips for improved results. Feel free to contact us for any assistance. Just click the button below.
Search tips:
- Check the spelling;
- Use different keywords and word combinations;
- Remove filters to clarify the search.
Export from Samoa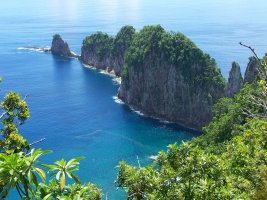 The economy of Samoa is dependent on agricultural exports, development aid and private remittances from overseas. Samoa is vulnerable to devastating storms. Agriculture employs two-thirds of the labor force, and furnishes 90% of exports, featuring coconut cream, coconut oil and copra. Outside of a large automotive wire harness factory, the manufacturing sector mainly processes agricultural products. Tourism is an expanding sector; more than 70,000 tourists visited the islands in 1996. The Samoan Government has called for deregulation of the financial sector, encouragement of investment, and continued fiscal discipline. Observers point to the flexibility of the labor market as a basic strength factor for future economic advances.
Because of variations in altitude, a large range of tropical and subtropical crops can be cultivated, but land is not generally available to outside interests. Of the total land area of 2,934 km² (725,000 acres), about 24.4% is in permanent crops and another 21.2% is arable. About 4.4% is Western Samoan Trust Estates Corporation (WSTEC).
Samoa's main exports are insulated wire, frozen and fresh fish, cars, delivery trucks, beer, printed circuit boards, coconut oil, rolled tobacco, scrap iron.
Samoa's main export partners are Australia, New Zealand, Nigeria, American Samoa, Brazil, Tokelau, United States, Thailand, Colombia.
Import to Samoa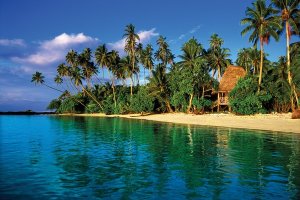 The economy of Samoa has traditionally been dependent on agriculture and fishing at the local level. In modern times, development aid, private family remittances from overseas, and agricultural exports have become key factors in the nation's economy.
The staple products of Samoa are copra (dried coconut meat), cocoa bean (for chocolate), and bananas. The annual production of both bananas and copra has been in the range of 13,000 to 15,000 metric tons. Samoan cocoa beans are of very high quality and used in fine New Zealand chocolates. Most are Criollo-Forastero hybrids. Coffee grows well, but production has been uneven. WSTEC is the biggest coffee producer. Rubber has been produced in Samoa for many years, but its export value has little impact on the economy.
Other agricultural industries have been less successful. Sugarcane production, originally established by Germans in the early 20th century, could be successful. Old train tracks for transporting cane can be seen at some plantations east of Apia. Pineapples grow well in Samoa, but beyond local consumption have not been a major export.
Samoa's main imports are refined petroleum, poultry meat, insulated wire, processed and frozen fish, sawn wood, cars, pasta, rice, delivery trucks.
Samoa's main import partners are New Zealand, Singapore, China, United States, Australia, Fiji, Japan, Thailand, Indonesia, South Korea.
Buying Cattle is an important part of raising cattle and adding money to your business. Export Portal Live Animals Department is an online market for sellers and buyers of any type of livestock.
The portal features a wide range of pigs, cows, sheep, goats, horses, rabbits and hares, turkeys, bees and fish for sale. An increasing number of the American, Australian, German, South African, Argentinian or Italian farmers and companies are daily advertising their livestock with Export Portal.
To help you make a more informed purchasing decision, you can refine your livestock search by age of the animals, breed and sex. Check also detailed live animal seller ratings as well as seller reviews written by buyers and customers. We also collaborate with hundreds of trusted international shipping companies that arrange transport of all kinds of animals and birds to any country in the world.
Export Portal is your one stop destination for all your shopping needs.
Customs requirements of Samoa
Samoa Customs Services Contacts
Website: www.revenue.gov.ws
Email: Info_services@revenue.gov.ws
Address: P.O. Box 44, Matautu-tai
Telephone: (0685) 21561
Fax: (0685) 21563
Samoa is an island country situated in the western Samoan Islands archipelago in the South Pacific Ocean, south of the equator, about halfway between Hawaii and New Zealand. Samoa is a member of the African, Caribbean, and Pacific Group of States, International Monetary Fund, World Customs Organization, World Trade Organization(observer)and other international organizations.
Tariffs
Being a member of the World Customs Organization, Samoa ratifies the terms and conditions set out by the Customs Cooperation Council (COC). The country adopted the Customs Tariff nomenclature under the International Convention on the Harmonized Commodity Description and Coding System. The Customs Department of Samoa has adopted the latest Harmonized System version 2012, which harmonizes codification of all imports and exports.
Customs duties are set at 4 clusters – 0%, 5%, 8% and 20%. There is also an excise duty imposed on alcohol, soft drinks, tobacco products and certain motor vehicles.
Samoa does not have any double taxation treaties in place. However, a Double Taxation Agreement between Samoa and New Zealand is currently being developed.
Product certification, labeling and packaging
Samoa Quarantine has strict requirements on importing plant and plant products, as plant pests and diseases can cause damage to the country's environment and agriculture.
However, certain products do not require an import permit:
Canned vegetables (cabbages, carrots, eggplant, broccoli, cauliflower, sweet corn etc)
Canned fruits (mango, peaches, plums, mixed fruits cherries etc)
Biscuits
Cooking oils (virgin, olive, vegetables etc)
Peanut butter
Tomato sauce
Salt
Sugar
Tea leaf (processed in packets)
Cooked root crops (yams, taro, cassava, breadfruit)
All used vehicles and machinery are required to be inspected on arrival, and undergo a water blasting treatment.
Used items must be fumigated and contain a fumigation certificate. All food items must comply with the Provisions of Pure Food Act.
Documents for import
Bill of lading
Cargo Release order
Certificate of origin
Commercial invoice
Import declaration
Insurance certificate
Packing list
Sources
http://www.revenue.gov.ws/customs-procedures
http://www.revenue.gov.ws/customs-tariff
http://www.clarkelawyers.net/doing-business-in-samoa/
http://dlca.logcluster.org/display/public/DLCA/1.3+Samoa+Customs+Information;jsessionid=2DE35D6C92225A02C15B36E3C560FA7D
http://www.samoaquarantine.gov.ws/