Envisioned System Architecture
Integration with the parties involved in the trade cycle is no longer just a desirable feature in modern automated systems. Filing of customs data needs to be accurate and timely to avoid delays and penalties. As mandates to furnish even more data from all the participants in the supply chain emerge, creating integration points has become essential both inside and outside the organization. Third-party service providers (such as GT Nexus for shipment-level data and trade-related information) may also need to be integrated to plug the information gap. Furthermore, integration is required with customs agencies to enable e-filing, as well as to refer to various sanctioned party lists that are published from time to time. A well-integrated system also provides greater visibility into the network and standardization of data, enabling better and faster decision making for stakeholders.
A closed-loop feedback mechanism that Export Portal offers helps detect errors and flag discrepancies while there is still time to take action. Standard metrics and KPIs across the organization, coupled with real-time alerts and notifications, help close the gap between information and action. Closed-loop decision processes between the physical and financial supply chains also help management control cash flow, while mitigating business risk. Duty drawbacks are one such area where most organizations would be able to extract immediate gains from analysis of trade transactions. In addition, audit trails have become mandatory for meeting compliance with customs agencies and other regulations such as the Sarbanes–Oxley Act.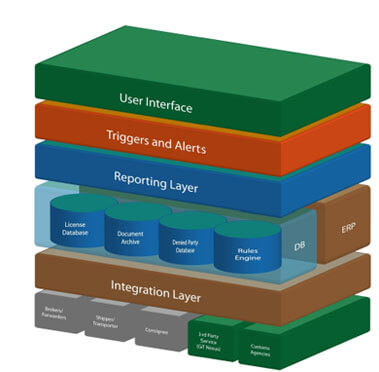 Figure 8.
Envisioned System Architecture.
Shipment Control and Visibility: Capturing Missing Data for Customs Compliance
A leading global player in international express, overland transport, and air freight was suffering from noncompliance with global security standards. The problem stemmed from its current system, which was unable to capture required shipping details and lacked security features to prevent unauthorized use of shipment data. Among other limitations, the system failed to provide piece-level tracking of shipments, the capture of new customer information and multi-user support, which created inefficiencies and shipment delays.
This company turned to us to develop a shipment control and visibility system, which led to improved productivity and better visibility. Shipment details were captured and tracked at a piece level. The system also reduced data entry effort due to use of validations and business rules and enabled operators to add new customer information. We leverage a unique value creation framework to help our clients achieve greater efficiency effectiveness, virtualization, and innovation.
Figure 9
depicts some of the critical areas for business transformation and for creating higher levels of value for our clients.
Trading Up
The global trade situation is bound to get more complex before it moves toward a more uniform and simplified regime. With the European Union following in the footsteps of the U.S. with increased regulatory activity, it has become imperative for organizations to proactively adopt these changes and take an early lead in implementing new processes and technologies. The burden placed on exporters and shippers today can be turned into an opportunity. Extensive automation of the processes, while preserving the flexibility of the environment, along with a mechanism to sense and respond to changes, can become a competitive differentiator for all supply chain players that have a significant stake in global trade. The ability to react in the right manner to rapid changes, as well as being able to manage risks, can translate into new opportunities for higher profits and reduced costs. This is the main goal Export Portal is aiming to achieve, along with helping nations boost their global trade incomes by having more business engage in international trade.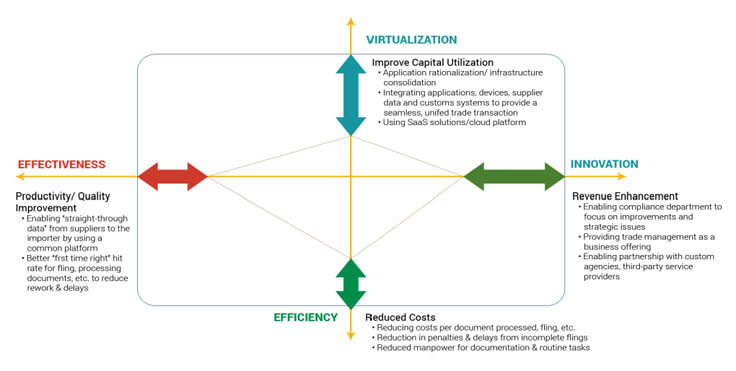 Figure 9.
A Framework for Global Trade Management.