Cheer up!
Sorry, we couldn't find anything matching your search
Follow the tips to improve your search quality or feel free to contact us directly and get explicit information about the products, categories and other services you are looking for.
Search tips:
- Check the spelling;
- Use different key words and word combinations;
- Remove filters to clarify the search.
Export from Yemen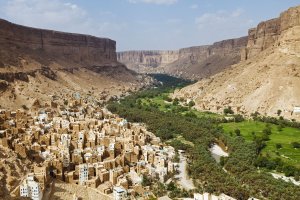 Yemen is a developing country highly dependent on declining oil resources for revenue.
Agriculture is the mainstay of Yemen's economy, generating more than 20 percent of gross domestic product (GDP). Principal agricultural commodities produced in the nation include grain, vegetables, fruits, pulses, qat, coffee, cotton, dairy products, fish, livestock (sheep, goats, cattle, camels), and poultry. Sorghum is the most common crop. Cotton and many fruit trees are also grown in the country, with mangoes being the most valuable.
Fish and fish products constitute only 1.7 percent of Yemen's GDP but are the second largest export.
Yemen's industrial sector is centered on crude oil production and petroleum refining, food processing, handicrafts, small-scale production of cotton textiles and leather goods, aluminum products, commercial ship repair, cement, and natural gas production. Yemen is a small oil producer and does not belong to OPEC. Unlike many regional oil producers, Yemen relies heavily on foreign oil companies that have production-sharing agreements with the government.
Oil accounts for around 85 percent of Yemen's exports. Other exports of Yemen include naphthalene, cigarettes, fruits, coffee, dried and salted fish, soap and animal hides.
Yemen's main exports partners are China, India, Thailand, the United Arab Emirates, Singapore, South Africa and Japan.
Import to Yemen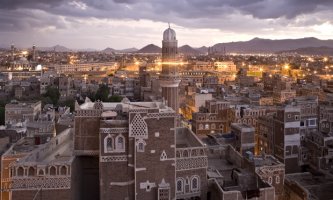 Yemen is a low income country that is highly dependent on declining oil resources for revenue. Petroleum accounts for roughly 25% of GDP and 63% of government revenue. Yemen has tried to counter the effects of its declining oil resources and continuing attacks on its oil pipelines by diversifying its economy through an economic reform program initiated in 2006 that is designed to bolster non-oil sectors of the economy and foreign investment.
At unification, both the Yemen Arab Republic and the People's Democratic Republic of Yemen were struggling underdeveloped economies. In the north, disruptions of civil war (1962-1970) and frequent periods of drought had dealt severe blows to a previously prosperous agricultural sector. Coffee production, formerly the north's main export and principal form of foreign exchange, declined as the cultivation of khat increased. Low domestic industrial output and a lack of raw materials made the YAR dependent on a wide variety of imports.
Yemen imports fuels, wheat and corn, rice, meat, pharmaceutical products, sugar and vehicles. Other imports of Yemen include machinery and equipment, foodstuffs, livestock and chemicals.
Yemen's main imports partners are the United Arab Emirates, China, Saudi Arabia, the United States, Switzerland, the Netherlands, Australia , Brazil, India, Thailand and Germany.
Articles of Stone, Plaster, Asbestos, Mica department welcomes sellers and buyers from worldwide. On Export Portal sell and buy a wide range of stone, plaster and mica articles of all kinds.
Select from our rich assortment of stone articles such as curbstones and flagstones, natural stone, worked monumental or building stone, mosaic cubes and the like, artificially coloured granules, chippings and powder (of natural stone), millstones, grindstones, grinding wheels and the like, hand sharpening or polishing stones.
Shop for fabricated asbestos fibres, mixtures with a basis of asbestos, articles of asbestos (for example, thread, woven fabric, clothing, headgear, footwear, gaskets).
On Export Portal find articles of plaster or of compositions based on plaster.
Browse through articles of mica and worked mica, including agglomerated or reconstituted mica, whether or not on a support of paper, paperboard or other materials.
Sell articles of stone, plaster and mica on Export Portal – a place where you find real export and import opportunities! Buy goods direct and safe!
Customs requirements of Yemen
Yemen Customs Contacts
Website: http://www.customs.gov.ye/
Address: Republic of Yemen, Sana'a, Yemen Customs Authority, P.O.Box, 2466
Telephone: +9671500464
Yemen is an Arab country situated in Western Asia, occupying South Arabia, the southern end of the Arabian Peninsula. It is bordered by Saudi Arabia, the Red Sea, the Gulf of Aden, Arabian Sea and Oman. Yemen is a member of the Arab Fund for Economic and Social Development, International Monetary Fund (IMF), World Customs Organization, World Trade Organization (observer) and other international organizations.
General information regarding customs procedures
- All documentation, original copies are required, however, for centralized clearances in Sana'a copies may be permissible. All other ports of entry / locations original documentation is insisted upon.
- It is recommended invoices state the CIF (Cost Insurance and Freight) value of the goods as this greatly facilitates reconciliation process with MoPIC.
- Reportedly customs procedures can appear inconsistent; regarding documentary requirements, lead times, Ministries have been known to lose documents and request replacements on a regular basis.
- Where the country of origin has a Yemeni Embassy supporting documentation should be stamped by the Yemen embassy in the country of origin, however there is a processing fee for documents not having this stamp which is generally less than the cost of attaining the embassy stamp in the country of origin.
- The packing list should be translated to Arabic before sending it to the authority.
- The Airway Bill and Bill of Lading should include CIF and its value.
Customs clearance document requirements
The government authority responsible for the customs import procedures is the Yemeni Customs Authority, normal clearance procedures are as follows:
1. Upon arrival of the goods, the following documents are submitted to the Goods Entry Section of the Customs office:
Local Income Tax number
Purchase invoice (must contain name of importer, nature of goods and the value)
Certificate of country of origin
Name of country goods imported from
Insurance policy (not compulsory)
Order from Shipping agent to receive goods
2. The necessary data for Customs Declaration Form will then be electronically entered.
3. The consignee then proceeds to the Manifestations Section.
4. At the Manifestations Section the Customs Declaration Form is printed out, allocated a customs reference number and given to the consignee, who then proceeds to the Department of Control.
5. At the Department of Control a customs officer will inspect the goods.
6. Upon completion of the inspection, the category of the goods is recorded by the customs officer in the Customs Declaration Form. The recording of the category confirms inspection has been carried out.
7. The amount of customs duty payable is calculated and an invoice is issued.
8. The consignee then proceeds to the Accounts Section.
9. Here the duty is paid and documents are checked by customs staffs, who then sign the Customs Declaration Form.
10. The consignee then proceeds to a branch of the bank within the customs office to pay his duties.
11. After payment, all the documentation including the Customs Declaration Form and the customs duty invoice are stamped and given to the consignee.
12. The consignee then proceeds to the release section and has a release form signed and stamped.
13. Then the consignee will proceed to the customs warehouse and pay any demurrage fees and attain a final approval from national security.
14. The stamped customs declaration and release forms are proof of customs clearance and duty payment.
Sources:
http://dlca.logcluster.org/display/public/DLCA/1.3+Yemen+Customs+Information
http://www.customs.gov.ye/service.php?secid=3
http://www.customs.gov.ye/service.php?secid=5