Sorry!
Your search did not match any word(s).
Follow our simple search tips for improved results. Feel free to contact us for any assistance. Just click the button below.
Search tips:
- Check the spelling;
- Use different keywords and word combinations;
- Remove filters to clarify the search.
Lesotho Exports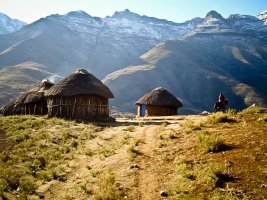 Lesotho, officially the Kingdom of Lesotho, is an enclaved landlocked country completely surrounded by South Africa. The country's main export commodities include clothing, diamonds, shoes, and road vehicles. Other exports comprise wool & mohair, water and tobacco. The countries which deal the most in export with Lesotho are the United States and South Africa, followed by Belgium and Canada.
Lesotho is geographically surrounded by South Africa and economically integrated with it as well. The economy of Lesotho is based on agriculture, livestock, manufacturing, mining, and depends heavily on inflows of workers' remittances and receipts from the Southern African Customs Union (SACU). The majority of households subsist on farming.
You won't have to go to Lesotho to buy goods exported by the country, because Export Portal does it for you. Create your account FOR FREE on our website, to get a full access to all these great things for yourself or your business. In addition to this, you can find business partners in Lesotho to expand your business possibilities and find new opportunities.
Export Portal is your gate to global trading.
Lesotho Imports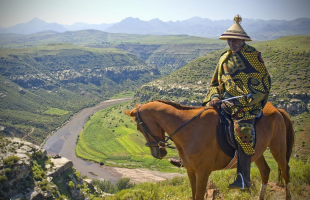 Lesotho is geographically surrounded by South Africa and economically integrated with it as well.
The economy of Lesotho is based on agriculture, livestock, manufacturing, mining. Almost 50% of the population earn income through informal crop cultivation or animal husbandry with nearly two-thirds of the country's income coming from the agricultural sector. Water and diamonds are Lesotho's only significant natural resources. Diamonds are produced in Letšeng, Mothae, Liqhobong and Kao mines. It is a major contributor to the exports of Lesotho.
The top countries to which Lesotho exports merchandise, along with percentage of exports, are: United States, Belgium, Madagascar, China, Hong Kong and South Korea.
Major Imports of Lesotho, according to the International Trade Centre, are these categories:
1. Fabrics (33.8%)
2. Cotton (13.6%)
3. Electronic equipment (13.1%)
4. Mineral fuels, oils, distillation products, etc. (8%)
5. Boilers, machinery, nuclear reactors, etc. (5.8%)
If you are interested to import your goods and products to Lesotho Export Portal is the perfect place to find new trading partners and business opportunities. Contact international water suppliers, cotton manufacturers, machinery and electronic equipment distributors from Lesotho. Among our numerous categories of products for sale you will definitely find the product you are looking for.
Customs requirements of Lesotho
Lesotho Customs Contact Information:
Website: http://www.lra.org.ls/
Phone: +26622313796
Address: Ground floor, Finance House Building, Government Office Complex, Kingsway Road
Lesotho is a member of the South African Customs Union (SACU), along with Botswana, Namibia, South Africa, and Swaziland. Under the SACU agreement, all members, including Lesotho, apply import duties and related measures set by South Africa. Applied customs tariffs, excise duties, valuation methods, origin rules, and contingency trade remedies are harmonized throughout SACU.
Lesotho applies the SACU common external tariff (CET). The dutiable value of goods imported into Lesotho is calculated on the f.o.b. price in the country of export and duties are collected at the place of entry into the common customs area. As the external trade of Lesotho is directed through South Africa, South Africa collects virtually all customs duties and excise taxes.
Export Structure
The export sector is dominated by garments industry whose exports are mainly destined to United States under AGOA. Other exports got to African countries, especially South Africa, Lesotho diamonds are largely sold in Europe and other products are exported to countries where Lesotho enjoys free market access through preferential trade arrangements. According to NSDP, in order to further promote export-led growth there is a need for both product and market diversification and the government of Lesotho is committed to achieve this goal by carrying out specific actions as outlined in the NSDP.
Largely Lesotho's Commercial business is on imports, however there are exports made from the locally manufactures commodities normally exported to Extra SACU countries, and the where the trader is engaged in an export transaction involving goods destined for Extra SACU, the clearance procedure has to be conducted through the Customs office located within the One Stop Business Facilitation Centre at the Ministry of Trade and Industry, Cooperatives and Marketing , prior to crossing the Lesotho borders. Goods destined for Intra SACU require a submission of declaration documents together with the supporting documents to the Customs office at the ports of entry, where all Customs formalities will be carried out and goods released for exports if they meet the requirements.
Clearance of Extra SACU Exports
The clearance of Extra SACU exports is a function carried out by the Customs office deployed at the One Stop Business Facilitation Centre (OBFC)
The common client base at this area are the textile manufacturers trading in clothing, tapestries, handicrafts, denim fabric, Yarn, tea etc. The exporters are categorized in two segments due to their business interests thus:
Registered exporters under rebate 470.03 apparel and Industrial rebate.
Unregistered exporters.
List of Export Documents which exporters have to produce to Customs office for processing of their exports:
1. Certificate of Origin
2. Examination Certificate
3. SAD 500/01/02
4. Commercial Documents
5. F178 Exchange Control Declaration
Exporter or customs clearing agent fills up a certificate of origin with all information which supports that the goods originate in accordance with the given rules. There is a unique certificate for each Preferential Trade Regime for Non-preferential rules there is one form, Lesotho Government Movement Certificate.
Upon entry into and exit out of Lesotho, an importer/exporter is required to make a written declaration of goods and services regardless of their value. All goods are subject to examination by the LRA Customs. The declaration is made using official a declaration form that is used and accepted in whole of the Southern African Customs Union (SACU)1 region. This form is known as a Single Administrative Document, commonly referred to as "SAD form". All goods entering and leaving Lesotho should be declared fully, unreservedly and all documentation relating thereto should also be submitted with the SAD form as per section 14 of Customs and Excise Act No. 10of 1982.
Importation into Lesotho
Imports coming into Lesotho arrive in two categories, that is, goods from within SACU (Intra-SACU goods) and goods from outside SACU (Extra-SACU goods).
Extra-SACU goods are goods which originate from any country other than SACU member states. These goods are subject to Customs duties according to the Tariff Book (Harmonised System Code) and VAT at the rate of 14%, or 15% in the case of alcoholic beverages. To facilitate quick passage through Customs, importers should, upon entry into Lesotho, attach all original tax invoices to the SAD form, that is the declaration form, for goods and services that have been purchased outside Lesotho. It is important to note that the SAD form must be filled in respect of importation of both Intra-SACU goods and Extra-SACU goods.
1.1 Clearance of goods originating from outside SACU
1.1.1 Clearance Process As outlined above, all goods originating outside SACU are subject to Customs duties which must be paid the LRA Customs at the border/port of entry upon arrival. When goods are being imported into Lesotho, the following have to be considered:
• Application of an Import Permit at OSS2 (Trade desk).
• Customs duties are levied as per the rates in the tariff book.
• VAT is calculated at the standard rate on Cost, Insurance, Freight and Customs duty (CIF + Duty).
Sources:
http://www.doingbusiness.org/data/exploreeconomies/lesotho/trading-across-borders/
http://www.lra.org.ls/Downloadable_Docs/taxes/Customs/Downloads/Brochures/Guidelines%20for%20Extra%20SACU%20importation%20and%20exportation2010.pdf
http://www.lldc2conference.org/custom-content/uploads/2013/08/combined-report-statement-_Lesotho.pdf
http://www.iatatravelcentre.com/LS-Lesotho-customs-currency-airport-tax-regulations-details.htm
https://lesotho.visahq.com/customs/
http://web.ita.doc.gov/tacgi/OverSeasNew.nsf/alldata/Lesotho