Sorry!
Your search did not match any word(s).
Follow our simple search tips for improved results. Feel free to contact us for any assistance. Just click the button below.
Search tips:
- Check the spelling;
- Use different keywords and word combinations;
- Remove filters to clarify the search.
Nicaragua Exports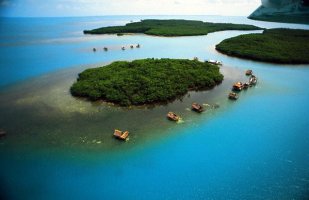 Nicaragua is primarily an agricultural country. Agriculture provides 60% of its total exports. Almost two-thirds of the coffee crop comes from the northern part of the central highlands, in the area north and east of the town of Estel. One of the key basis of economic growth has been production for export. Although traditional products such as coffee, meat, and sugar continued to lead the list of Nicaraguan exports, the fastest growth is now in nontraditional exports like textile and apparel, gold, seafood, and new agricultural products such as peanuts, sesame, melons, and onions. Main export partners of Nicaragua are the United States (30 percent of total exports) and its neighbouring countries of Central America (20 percent of total exports). Others include Venezuela and the European Union.
Nicaragua's agricultural sector has benefited because of the country's strong ties to Venezuela. It is estimated that exports from Nicaragua to Venezuela are approximately $200 million in agricultural goods. since 1990s, the government initiated efforts to diversify agriculture. Some of the new export-oriented crops were peanuts, sesame, melons, and onions.
Mining is becoming a major industry in Nicaragua, contributing less than 1% of gross domestic product (GDP). Restrictions are being placed on lumbering due to increased environmental concerns about destruction of the rain forests. But lumbering continues despite these obstacles; indeed, a single hardwood tree may be worth thousands of dollars.
Nicaraguan exports include coffee, beef, shrimp, lobster, tobacco, sugar, gold and peanuts. Export from Nicaragua has improved since the establishment of the Central America-Dominican Republic Free Trade Agreement or CAFTA-DR (trade agreement between the United States, Nicaragua, the Dominican Republic, Honduras, Costa Rica, Guatemala and El Salvador).
Nicaragua's main export partners are United States, Venezuela, Canada, El Salvador, Costa Rica, Mexico, China, Guatemala, India, Honduras.
Nicaragua's main exports are:
Coffee
Gold
Frozen Bovine Meat
Raw Sugar
Knit Sweaters
Crustaceans
Ground Nuts
Knit T-shirts
Crude Petroleum
Cheese
Nicaragua Imports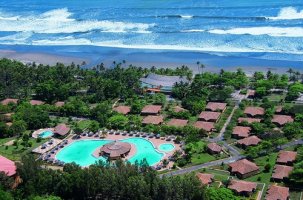 The Republic of Nicaragua's major imports include petroleum products, raw materials, machinery and equipment, consumer goods and packaged medicines. About 17 percent of the top five imports of Nicaragua come from the United States, 12 percent from Venezuela, and roughly 25 percent are divided among China, Mexico and Curacao.
The United States and Central America are the biggest trade partners of Nicaragua, with the U.S. providing nearly 23 percent and Central America supplying 20 percent of Nicaragua's imports. China is the country's main supplier of light rubberized knitted fabric, which Nicaragua utilized by boosting its knit and woven apparel industry. Though it is mainly an agricultural country, it needs to import agricultural raw materials, such as crude fertilizer, precious stones and minerals, excluding petroleum and coal. Aside from crude and refined petroleum, Nicaragua imports delivery trucks from the United States, which make up about 2 percent of the country's total imports.
The current imports of Nicaragua far exceed its exports, resulting in a negative balance of trade. This may be due to the high taxes on exports, such as goods and services, imposed by Nicaragua's national government.
Nicaragua mainly imports oil and derivatives, consumer and intermediate goods.
Nicaragua's main import partners are United States, Venezuela, China, Mexico, Curacao, Costa Rica, Guatemala, El Salvador, South Korea, Honduras.
Nicaragua's main imports are:
Refined Petroleum
Crude Petroleum
Packaged Medicaments
Light Rubberized Knitted Fabric
Delivery Trucks
Cars
Pesticides
Plastic Lids
Wheat
Electric Generating Sets
Customs requirements of Nicaragua
Nicaraguan Customs Contats
Website: http://www.dga.gob.ni/
Telephone: 505-22482642
Nicaragua is the largest country in the Central American isthmus. Nicaragua's capital Managua is the third-largest city in Central America. Nicaragua, set between the Pacific Ocean and the Caribbean Sea, is a Central American nation known for its dramatic terrain of lakes, volcanoes and beaches. Nicaragua is a representative democratic republic, and has experienced economic growth and political stability in recent years. The biological diversity, warm tropical climate, and active volcanoes make Nicaragua an increasingly popular tourist destination.
Nicaragua has a relatively open trade and investment regime, with an average MFN tariff of 6.2 per cent and limited use of non-tariff measures. It participates actively in the Central American regional integration process, and its trade policy is largely determined by its involvement in that process and by its adherence to other international agreements, in particular CAFTA-DR. Nicaragua's trade and investment policy is designed to foster its integration in the world economy, using the country's comparative advantage in products such as coffee and sugar, but at the same time also promoting the development of a more solid and chiefly export-oriented industrial base, through schemes such as the free zones.
Import Tariffs
As a member of the Central American Common Market (CACM), Nicaragua applies a harmonized external tariff on most items at a maximum of 15% with some exceptions. Approximately 95% of tariff lines are harmonized at this rate or lower. In response to rising prices, in 2007, Nicaragua issued a series of decrees to unilaterally eliminate or reduce to 5% tariffs on many basic foodstuffs and consumer goods. These decrees have been extended every six months and are currently in effect through June 30, 2012. The Nicaraguan Customs Authority maintains an online database of import tariffs, including tariffs applicable under CAFTA-DR.
Import Requirements and Documentation
An importer must present the following documentation to the Nicaraguan Customs Authority:
bill of lading
packing list
original invoice
declaration of invoice authenticity
permits issued by Nicaraguan authorities (if necessary, see below)
certificate of origin
Importers must also register as a taxpayer with the Nicaraguan Tax Authority. Once they have their tax identification number, they must register it with the Nicaraguan Customs Authority, Legal Affairs Division, which also requires importers to present proof of fiscal solvency on a monthly basis.
The process for sending donations to Nicaragua is to request authorization from the Ministry of Foreign Relations. The donating organization may wish to hire a local customs broker familiar with local customs procedures in order to ensure that the donation is not lost. Customs may seize a shipment if it is not removed from their warehouses after 20 days, but the importer can pay a fine in order to avoid it being auctioned off.
Prohibited and Restricted Imports
The Ground Transportation Law (2005/524) prohibits the import of motor vehicles that are more than 10 years old, with the exception of antique cars and donations to the fire department, Red Cross, and religious organizations.
Exports
Exporting a standard container of goods requires 5 documents, takes 21 days and costs about $1140. Importing the same container of goods requires 5 documents, takes 20 days and costs about $1245.
Documents required for exports:
Bill of lading
Certificate of origin
Commercial invoice
Customs export declaration (FUE)
Quality Certificate
Sources:
http://nicaragua.usembassy.gov/chapter5.html
http://export.gov/nicaragua/build/groups/public/@eg_ni/documents/webcontent/eg_ni_048474.pdf
https://www.wto.org/english/thewto_e/countries_e/nicaragua_e.htm