Sorry!
Your search did not match any word(s).
Follow our simple search tips for improved results. Feel free to contact us for any assistance. Just click the button below.
Search tips:
- Check the spelling;
- Use different keywords and word combinations;
- Remove filters to clarify the search.
Suriname Exports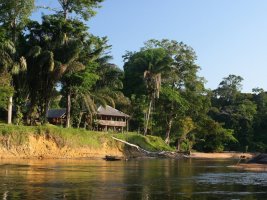 Suriname is considered to be a culturally Caribbean country, and is a member of the Caribbean Community (CARICOM). The economy of Suriname is dominated by the bauxite industry, which accounts for more than 15% of GDP and 70% of export earnings. Other main export products include rice, bananas and shrimp. Suriname has recently started exploiting some of its sizable oil and gold reserves. The Surinamese economy is very dependent on commerce, its main trade partners being the Netherlands, the United States, Canada.
Bauxite (aluminium ore) mining continues to be a strong revenue source, and the discovery and exploitation of oil and gold has added substantially to Suriname's economic independence. Agriculture, especially rice and bananas, remains a strong component of the economy, and ecotourism is providing new economic opportunities. More than 80% of Suriname's land-mass consists of unspoiled rain forest.
Suriname main exports are bauxite (70 percent of total exports). Other exports of Suriname include gold, oil, hardwood and bananas.
Main export partners of Suriname are the United States (23 percent of total exports), Canada, Belgium, United Arab Emirates, Norway, Guyana and Netherlands.
Suriname Imports
The backbone of the economy of Suriname is the export of aluminium oxide (alumina) and small amounts of aluminium produced from bauxite mined in the country. Suriname's bauxite deposits have been among the world's richest.
There is one large scale gold mine operating in Suriname. Suriname's economic prospects for the medium term will depend on continued commitment to responsible monetary and fiscal policies and to the introduction of structural reforms to liberalize markets and promote competition. The government's reliance on revenue from extractive industries will temper Suriname's economic outlook, especially if gold prices continue their downward trend.
Suriname main imports are food, fuel, clothing and machinery. Other imports of Suriname include cars, sodium or potassium peroxides, delivery trucks, large construction vehicles and excavation machinery.
Main import partners of Suriname are the United States (26 percent of total imports) and Netherlands, United Arab Emirates, Netherlands and Brazil.
Customs requirements of Suriname
Suriname Customs Contacts
Email: asycursur@sr.net
Tel: (597) 402-778
Fax: (597) 403-164
Ministry of Trade
Website: http://www.gov.sr/ministerie-van-hi.aspx
Suriname is a country situated on the northeastern Atlantic coast of South America, bordered by French Guiana, Guyana and Brazil. It is the smallest country in South America. Suriname is a member of African, Caribbean, and Pacific Group of States, Caribbean Community and Common Market (Caricom) and World Trade Organization.
Tariffs
Suriname became a full member of CARICOM in 1995. There is a common external tariff (CET) ranging from 5% to 25%. Import tariffs from non-CARICOM countries range between 0% and 40%, averaging 30% to 40%.
Duty-free import of various goods is offered through the National Development Incentives program. The government has offered full and partial exemption from import duties to new businesses.
Suriname's trade licensing system is outdated and time-consuming and is in fact a trade barrier in itself. There are no free trade zones.
Products certification and labeling
Companies that want to import goods that require a license should apply for the license with an H-99 Form at the Ministry of Trade and Industry. Licensing certificates are provided by the Ministry of Health or the Ministry of Agriculture, Animal Husbandry, and Fisheries, depending on area of responsibility.
Some imported goods may require a health certificate.
For goods that do not require a license for importation, the importer must complete the International Trade Form for Goods and Services (IT form) and the Single Administrative Document.
Labels should contain the following details: brand, name of the product, ingredients, production date, expiration date, and the producer's address and telephone number.
Labels may appear in Dutch or English.
Import documents:
Bill of lading
Commercial invoice
Customs Import Declaration
Delivery Order Release from Shipping Line
Inspection Report
International Transaction Form
Packing list
Sources:
http://web.ita.doc.gov/tacgi/overseasnew.nsf/alldata/Suriname
http://www.doingbusiness.org/data/exploreeconomies/suriname?topic=trading-across-borders