Sorry!
Your search did not match any word(s).
Follow our simple search tips for improved results. Feel free to contact us for any assistance. Just click the button below.
Search tips:
- Check the spelling;
- Use different keywords and word combinations;
- Remove filters to clarify the search.
Turkmenistan Exports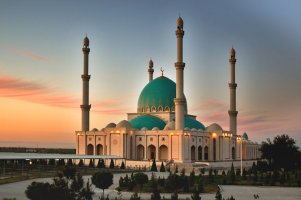 Turkmenistan is largely a desert country with intensive agriculture in irrigated oases and significant natural gas and some oil resources. The two largest crops are cotton, most of which is produced for export, and wheat, which is domestically consumed. Turkmenistan is among the top ten producers of cotton in the world. Although agriculture accounts for roughly 14% of GDP, it continues to employ nearly half of the country's workforce.
The country possesses the world's fourth-largest reserves of natural gas and substantial oil resources. Turkmenistan has taken a cautious approach to economic reform, hoping to use gas and cotton sales to sustain its economy. In 2004, the unemployment rate was estimated to be 60%.
Known for its autocratic government and large gas reserves, Turkmenistan also has a reputation as an island of stability in restive Central Asia. Despite its gas wealth, much of Turkmenistan's population is still impoverished. After independence from the Soviet Union in 1991 the country entered a period of isolation that has only recently begun to end.
Turkmenistan's is the world's fourth largest exporter of natural gas. Turkmenistan's exports also include oil, cotton, polymers, textiles and vegetable products, gold and non-retail pure cotton yarn.
Turkmenistan's main exports partners are China, Turkey, Italy, the United Arab Emirates, Afghanistan, Iran, Kazakhstan, the Ukraine, Poland and Hungary.
Turkmenistan Imports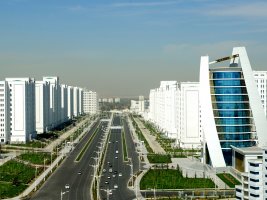 Turkmenistan is one of the world's fastest-growing economies. It is largely a desert country with intensive agriculture in irrigated areas, and huge gas and oil resources. In terms of natural gas reserves, it is ranked 4th in the world. From 1998-2005, Turkmenistan suffered from the continued lack of adequate export routes for natural gas and from obligations on extensive short-term external debt.
The Turkmen Government claims to have placed great emphasis on foreign economic relations and foreign trade and an "open door" trade policy, as declared by the President. At present 73 countries are partners of Turkmenistan, including the republics of the NIS.
Export of industrial and agricultural raw materials remain the most important goals of the Turkmen Government. Price controls on most goods, the stabilization of reproduction processes, the creation of stable economic growth, and flexibility to innovations and a socially oriented economy also are very important. The government is attempting to strengthen state regulation of foreign trade and create a state system of insurance to expand and consolidate foreign economic relations.
Turkmenistan mainly imports iron and steel pipes, heavy construction equipment, wheat, grading machinery and vehicles. Other imports of Turkmenistan include special purpose ships, raw iron bars, iron structures and delivery trucks.
The most prominent trade partners of Turkmenistan are the United States, Turkey, Switzerland, Hong Kong, Germany, the United Kingdom, Cyprus, Iran, and the United Arab Emirates. Turkmenistan is a member of the Economic Cooperation Organization (ECO).
Customs requirements of Turkmenistan
Turkmenistan Customs Contacts
Website: http://www.customs.gov.tm/index.php?n=150800
Email: customs@online.tm
Address: 744000 Turkmenistan, Ashgabat, Arçabil şaýoly, 138
Telephone: (+993) 12 39-41-55
Fax: (+993) 12 39-42-42
Turkmenistan is a country situated in Central Asia, bordered by Kazakhstan, Uzbekistan, Afghanistan, Iran and the Caspian Sea. The country is an associate member of the Commonwealth of Independent States, Economic Cooperation Organization, World Customs Organization and other international organizations.
Turkmenistan Customs Information
Technically, Turkmenistan does not levy tariffs except on imports by individuals. However, in practice, the excise tax system applies higher rates to imported goods than domestic, effectively putting an unspoken tariff in place. Additionally, certain domestic products are exempted from the value-added tax and, by special presidential decree, government regulatory agencies have the power to go into certain markets and determine the prices of domestically produced goods and the prices for which importers pay for foreign products. Certain imports from countries outside the rural area are prohibited or require a license.
Turkmenistan is not a member of any free trade agreements and is not a member of the Commonwealth of Independent States customs union. It has signed trilateral agreements with Iran and Ukraine, Iran and Armenia, Iran and Bangladesh, and Iran and the Philippines and is pursuing more such agreements. Turkmenistan has most-favored nation status with the United States and Austria.
Duties run from 10% to 100%, the average being 30%.
Import Tariffs
Turkmenistan does not apply tariffs per se on imported goods. However, in practice the Government of Turkmenistan levies customs duties and higher excise taxes on imports which are significant barriers to trade.
Turkmenistan's value added tax is 15%.
Samples/Temporary Entry
Turkmenistan customs authorities may enforce strict regulations concerning temporary importation into Turkmenistan of items such as carpets, jewelry, musical instruments, pieces of art, archaeological artifacts, antiques, protected animals, etc
Standards
Turkmenistan uses National Standards of Turkmenistan (TDS) and General Interstate Standards (GOST). Turkmenistan's national standards are developed to meet international standards. GOST standards have been developed by 12 FSU countries and incorporate former Soviet Union standards. Standards and metrology are governed by the Law on Standardization and Metrology of 1993 and a series of by-laws.
The Main State Inspectorate "Turkmenstandartlary" is the regulating agency in the area of standards and metrology and publishes national standards updates.
Document Requirements:
- Company Papers / Passport & Valid Visa
- Original Invoice
- Packing List in English or Russian
- Original BL
- Certificate Of Origin
Embargoes:
Weapons of all kinds. Pornography. Narcotics. Toxic material Radioactive material. Export of antiques, such as carpets, paintings, books, icons or any other items, which is considered to be of Turkmen cultural and historical value. Right hand cars.
Prohibited Items:
Narcotics
Pornography (please consider the term as used under the Islamic law)
Counterfeit items
Cultural artefacts and other objects of cultural importance
Henna
Palm tree and any products thereof
Explosive material
General Restrictions:
Live animals (health certificate required along with complete and valid inoculations)
Endangered species and any products or parts thereof as outlined by CITES maybe be brought in only with CITES permission
Medication
Sources:
http://dlca.logcluster.org/display/public/DLCA/1.3+Turkmenistan+Customs+Information;jsessionid=E9A67E5197F065353269472CF5991B14
http://dlca.logcluster.org/display/public/DLCA/4.2.1+Turkmenistan+Government+Contact+List
http://web.ita.doc.gov/tacgi/overseasnew.nsf/alldata/Turkmenistan