Sorry!
Your search did not match any word(s).
Follow our simple search tips for improved results. Feel free to contact us for any assistance. Just click the button below.
Search tips:
- Check the spelling;
- Use different keywords and word combinations;
- Remove filters to clarify the search.
Venezuela Exports
Venezuela has the world's largest oil reserves and has been one of the world's leading exporters of oil since the discovery of oil in the early 20th century. Previously an underdeveloped exporter of agricultural commodities such as coffee and cocoa, oil quickly came to dominate exports and government revenues.
Venezuela manufactures and exports heavy industry products such as steel, aluminium and cement, with production concentrated around Ciudad Guayana, near the Guri Dam, one of the largest in the world and the provider of about three-quarters of Venezuela's electricity. Other notable manufacturing includes electronics and automobiles, as well as beverages, and foodstuffs. Agricultural exports of Venezuela include rice, corn, fish, tropical fruit, coffee, beef, and pork.
Venezuela has the largest oil reserves, and the eighth largest natural gas reserves in the world, and consistently ranks among the top ten world crude oil producers.
The top exports of Venezuela are crude petroleum, refined petroleum, acyclic alcohols, petroleum coke and iron reductions.
The top export partners of Venezuela are North America and Central America, the United States, Other Asia and India.
Venezuela Imports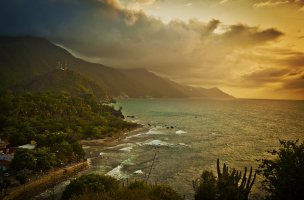 Venezuela's economy is dependent on oil revenues, which account for roughly 96% of export earnings, about 40% of government revenues, and 11% of GDP. The Venezuelan government has maintained strict currency controls since 2003. Currently, three official currency exchange mechanisms are in place for the sale of dollars to private sector firms and individuals, with rates based on the government's import priorities. These currency controls present significant obstacles to trade with Venezuela because importers cannot obtain sufficient dollars to purchase goods needed to maintain their operations. MADURO has used decree powers to enact legislation to deepen the state's role as the primary buyer and marketer of imports, further tighten currency controls, cap business profits, and extend price controls.
Agriculture in Venezuela accounts for approximately 3% of GDP, 10% of the labor force, and at least a quarter of Venezuela's land area. The country is not self-sufficient in most areas of agriculture. Venezuela imports about two-thirds of its food needs.
Venezuela's main imports are packaged medicaments, frozen bovine meat, iron pipes, concentrated milk.
The top import partners of Venezuela are the United States, China, Brazil, Colombia and Argentina.
Customs requirements of Venezuela
Venezuela Customs Contacts
Venezuela's Ministery of Economy:
Website: http://declaraciones.seniat.gob.ve/portal/page/portal/PORTAL_SENIAT
Venezuela, officially the Bolivarian Republic of Venezuela, is a federal republic situated on the northern coast of South America. It is bordered by Colombia, Brazil, Guyana, and the islands of Trinidad and Tobago. Venezuela is a member of the Caribbean Community and Common Market (Caricom - observer), International Chamber of Commerce (ICC), Southern Cone Common Market (Mercosur - associate), World Trade Organization and other international organizations.
Customs Regulations
The Venezuelan Customs Department (SENIAT) is in charge of the valuation of goods according to the Customs Valuation Agreement (GATT). The object of this agreement is to establish an equitable, harmonized and neutral customs valuation system.
Goods entering or exiting the country must be cleared through customs. Goods must be declared and authorized by customs authorities. For imports and exports, the documents required to this declaration are the following:
- Declaration of customs
- Commercial invoice
- Original bill of lading
- Payment of taxes (when applicable)
Customs services tariffs are due when the documentation corresponding to the entry or exit of the product is registered by the Customs Office. This tariff must be paid together with the Customs Tariffs. The Customs Service Tariffs are the following:
- Five percent (5%) ad-valorem, for goods entering by sea, air or land
- Two percent (2%) ad-valorem, when goods enter the territory by mail services
All goods destined to duty-free zones, free ports, customs warehouses or other similar destinations will only pay for the customs services tariffs.
Exports
Exporters have the right to recover value added tax supported from the acquisition and reception of services or goods, in the scope of their export activities. This tax credit recovery is subject to the Value Added Tax (VAT) law and its regulations, in which the proceeding and requirements for this recovery are established.
Venezuela has developed a policy of expansion and incentive for the exportation of nontraditional products, (i.e. products other than oil, gas, iron and aluminum). Nevertheless, some products might be subject to an export restriction. These restrictions can be total or limit the exports to a determined amount (i.e. exports of gold).
Depending on the destination or the nature of the product, an exporter may be requested to fulfill specific prerequisites such as export licenses, sanitary certificates, or certificates of origin. Usually there are no export duties.
Imports
No license or governmental permit is required for importing goods. However, there are goods subject to restrictions and previous licenses.
Venezuelan tariffs are usually set on an ad-valorem basis. However, sometimes, import duties are calculated on a specific or mixed basis. According to Rule 989, which contains Venezuela's custom Tariffs, there are four levels of tariffs applicable for imported goods.
The highest range is up to 20%, the middle 15% and 10%, and the lowest is 5%. Vehicles are an exceptional case with tariffs up to 35%. Customs services tax is 1% of the value of the merchandise imported into the country.
Some products might be subject to import quotas in determined periods of time. Quotas were imposed a few years ago on the import of cars from Colombia.
There are Non-tariff barriers ("NTB") properly listed and differing depending on the nature of the restriction imposed. Basically, restrictions are imposed based on public health and security reasons.
Other Requirements
Venezuela has a policy of expansion and incentive for the exportation and special funds were created to finance non-traditional exports by granting loans with preferential conditions to Venezuelan exporters (i.e. Bank of Foreign Trade BANCOEX). Depending either on the destination or the nature of the product, an exporter may be requested to fulfill
specific prerequisites such as manufacturing requirements, export licenses, sanitary certificates, or certificates of origin.
Regarding the importation of certain component parts being permitted only if they are to be ultimately incorporated in a final product, the imposition of such requirements will depend on special policies and will be limited to certain products of industry.
Finally, there are several requirements regarding product labeling or packaging applicable in Venezuela. The most important are:
- General Food Regulation and General Resolutions (1959)
- Resolution N° 629 (Ministry of Production and Commerce) on the minimal
information required for products labels and packaging (2000)
- Covenin General Rule on Food Labeling (2001).
In addition to these general rules, there are specific rules for different kinds of products and industry.
Sources:
http://www.nortonrosefulbright.com/knowledge/publications/80063/new-venezuelan-customs-tariff-published
http://ec.europa.eu/trade/policy/countries-and-regions/countries/venezuela/
http://www.state.gov/r/pa/ei/bgn/35766.htm