Sidebar
Export from Morocco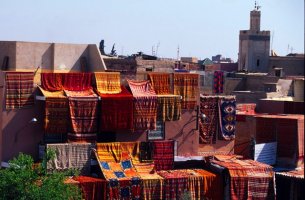 Moroccan economy is based upon its major resources - agriculture, phosphates, and tourism. Sales of fish and seafood are important as well. Industry and mining contribute about one-third of the annual GDP. Morocco is the world's third-largest producer of phosphorus after China and the United States, and the price fluctuations of phosphates on the international market greatly influence Morocco's economy.
The production of textiles and clothing is part of a growing manufacturing sector that accounted for approximately the third of total exports in the last years, employing 40% of the industrial workforce. The government's goal is to increase textile and clothing exports.
Morocco exports citrus fruits and early vegetables to the European market. Morocco's wine industry is developed, and production of commercial crops (cotton, sugarcane, sugar beets, and sunflowers) is expanding. Newer crops such as tea, tobacco, and soybeans have passed the experimental stage, the fertile Gharb plain being favourable for their cultivation.
The fishing industry in Morocco is a leading foreign exchange earner, accounting for 16% of total exports. For a long time the industry has been an economic pillar for the country. The Kingdom is considered the largest fish market in Africa.
The manufacturing sector produces light consumer goods, especially foodstuffs, beverages, textiles, matches, and metal and leather products. Heavy industry is largely limited to petroleum refining, chemical fertilizers, automobile and tractor assembly, foundry work, asphalt, and cement. Many of the processed agricultural products and consumer goods are primarily for local consumption, but Morocco exports canned fish, fruit, wine, leather goods, textiles, as well as such traditional Moroccan handicrafts as carpets and brass, copper, silver, and wood implements.
Morocco main exports partners are: European Union countries with Spain, France and Italy being the most important, Brazil, India, United Kingdom, USA.
Morocco main exports are:
Insulated Wire
Mixed Mineral or Chemical Fertilizers
Calcium Phosphates
Phosphoric Acid
Non-Knit Women's Suits
Refined Petroleum
Cars
Processed Fish
Semiconductor Devices
Non-Knit Men's Suits
Fruit and vegetables
Import to Morocco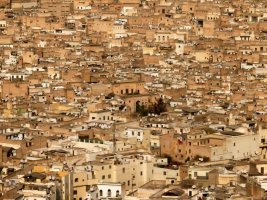 Morocco's economy is considered a relatively liberal economy governed by the law of supply and demand. Since 1993, the country has followed a policy of privatization of certain economic sectors which used to be in the hands of the government. Government reforms and steady yearly growth in the region helped the Moroccan economy to become much more robust compared to earlier years.
It is a country with intermediate income (lower bracket) and emerging financial market. The economic system of the country presents several facets. It is characterized by a large opening towards the outside world. France remains the Morocco's primary trade partner (importer and exporter) of Morocco. France is also the primary creditor and foreign investor in Morocco. In the Arab world, Morocco has the second-largest non-oil GDP.
Morocco is an influential member of the Arab League and a part of the Union for the Mediterranean. Morocco has become a major player in the African economic affairs, and is the fourth-largest economy in Africa.
Morocco's trade is based on various free trade agreements that the country has signed with its principal economic partners. Among major Morocco imports are textiles, fabric, telecommunications equipment, gas and electricity, transistors, plastics.
Morocco main imports partners are France, Spain, China, Italy, Germany, United States, Saudi Arabia, Russia, Turkey.
Morocco main imports are:
Refined Petroleum
Crude Petroleum
Petroleum Gas
Cars
Wheat
Coal Briquettes
Sulphur
Vehicle Parts
Insulated Wire
Corn
From cocoa, chocolate and snack food to honey, wine and organic food, find thousands of products in Export Portal's Food and Agricultural Produce Online Store. We are one of the largest online stores for American, European, Australian, African, Middle Eastern or Asian foodstuff. Export Portal carries freshest quality food products from the wide selection of reliable top-quality International Food wholesalers, exporters, producers and suppliers.
Get ready to embark on an exciting journey around the world to discover and explore new foods and flavors from across the globe that include Chinese, American, French, Spanish, Italian, Indian, Egyptian and many other countries. Buy or sell bulk canned food, vegetables and fruits, meat products, nuts, sugar or find all the essential ingredients to create your favorite dishes across your country or around the world.
Visit Export Portal to experience the extensive variety of Italian Food and Beverage, including rich delicious pasta, dried herbs, famous Italian cheeses, extra virgin olive oils, wonderful Italian coffee and other specialties. For a taste of the East our vast array of spices like ginger, pepper, cinnamon, curry powder, cumin or coriander and more is sure to please. With our range of Chinese noodles, wasabi or tofu recreate your favourite Chinese meals. Or if you are looking for healthy alternatives to everyday foods, search our selection of black beans, whole wheat flour, coconut flour, stevia, chia seeds, green or white tea, healthy olive and coconut oils.
We try our hardest to ensure your online shopping experience with our Food and Agricultural Online Store is 100% satisfactory. Whatever you are looking for you are sure to find in our Online Store. From seafood and olive oil to coffee and wine, discover International foods at Exportportal.com
Customs requirements of Morocco
Moroccan Customs Contacts:
Website: http://www.douane.gov.ma/
Email: adii@douane.gov.ma
Telephone: +(212)537-57-90-01/02/03
Morocco, officially the Kingdom of Morocco, is a country in the Maghreb region of North Africa. Geographically, Morocco is characterized by a rugged mountainous interior and large portions of desert. It is one of only three countries (with Spain and France) to have both Atlantic and Mediterranean coastlines. A historically prominent regional power, Morocco has a history of independence not shared by its neighbours. Its distinct culture is a blend of Berber, Arab, Sub-Saharan African, and European influences. Morocco claims the non-self-governing territory of Western Sahara as its Southern Provinces.
Morocco has a population of over 33.8 million, its political capital is Rabat, the largest city is Casablanca. One of the largest cities is Marrakesh which walled medina, a mazelike medieval quarter, offers entertainment in its Djemaa el-Fna square and souks (marketplaces) selling traditional ceramics, jewelry and metal lanterns.
Import regime
The importing of goods is governed by the working balances convertibility regime; therefore, it is exempt from authorization from the exchange control office. To regulate imports, operators must sign a domiciled import paper from a Moroccan bank. Import papers allow the goods to be cleared through customs and be financially regulated.
All products may be imported except for retreaded or used tires, explosives, and used clothing.
Safeguard and anti-dumping measures may be taken against products that cause or risk causing serious harm to national production.
Import-related insurance must be paid to a Moroccan insurance company; however, some goods for which the import paper is labelled CIF may be regulated if they are included in the list below and the importer is compelled to accept insurance abroad:
- Products imported in connection with foreign financing that provide for the purchasing of insurance abroad
- Capital goods and equipment imported for a turnkey contract or an investment program that provide for the purchasing of insurance abroad
- Crude oil, gas, and gas oil
- Wood
- Heifers
Furthermore, exchange regulations allow the purchasing of insurance policies abroad for imports sent by air or post.
Importers also have the option of making advance payments of up to 40% for capital goods imports or up to the equivalent amount in national currency of 200,000 DH for certain imports.
To finance their imports, operators have the option of entering into contracts with foreign lenders for lines of credit and buyer and supplier credits.
Of course, operators also have the option of accepting the services of factoring corporations to guarantee foreign suppliers that import bills will be collected and paid.
Import CESS
This tax is imposed on imported goods except for the following:
Imports under economic customs regimes
Imports of goods that are fully or partially exempt from import duties and taxes under agreements or conventions signed between Morocco and certain countries
Imports of capital goods, materials, and equipment as well as their parts, spare parts, and accessories, which are needed to promote investment
Goods that are duty-free or that receive full suspension from import duties and taxes
Import duty
Import duty ratios vary according to the nature of the imported product, and they have been reduced to the following six percentages: 2.5%, 10%, 17.5%, 25%, 35%, and 50%. However, capital goods, materials, and equipment as well as their parts, spare parts, and accessories are subject to a rate of either 2.5% or 10% ad valorem under the investment charter.
Until July 1, 2000, the import fiscal levy (15% rate) was added to the customs duties on all imported goods, but for increased transparency, the Moroccan customs administration combined the fiscal levy and the import duty under the name import duty.
According to data, exporting a standard container of goods requires 4 documents, takes 10 days and costs $595.0. Importing the same container of goods requires 6 documents, takes 14 days and costs $970.0.
The documents for import are as follows: bill of lading, commercial invoice, customs import declaration, Gate Pass (Bon de Sortie), import registration form (engagement d'importation), packing list.
Tariffs
Although Morocco has reduced barriers to trade by liberalising controls and customs clearance in the last 10 years, there is still a substantial level of protection.
Commodity prices are determined by the market with the exception of items such as petrol, vegetable oil, flour and sugar. Morocco introduced a tariff system for major staples – grains, oil seeds and sugar. While the system has resulted in more stable local prices of imports, there are significantly higher duties on low priced imports.
The maximum tariff rate is 35 per cent with an additional import surtax of up to 15 per cent on most goods. Imports are also subject to a Value Added Tax (VAT), varying from zero to 20 per cent. VAT is not always paid on locally produced goods such as corn.
Food products are subject to an average of 80 per cent cumulated duties and taxes, meaning the average consumer cannot afford imported food products.
The customs authorities will not give a binding ruling on customs classification in advance. An informal advisory opinion may be obtained from the Director General des Douanes (Customs office).
While the government does not require locally registered firms to apply ISO 9000 standards, most multinational firms use the system.
There is a free trade zone in Tangiers, which is open to foreign investors and businesses. Companies in the zone can import goods duty-free and are exempt from most taxes for export production. Another free trade zone is planned for Nador.
Warehouse storage in public or private warehouses is controlled by the Customs Administration. Moroccan labour laws apply.
Certificates and labels
There are no special regulations for marking the exterior of containers bound for Morocco. For ease of identification and clearance through customs, an indication on the outer containers of the net weight in kilograms and other identification markings is useful.
Food labels can be in French or Arabic and must show country of origin. Local and imported canned foods and beverages must have the date of production and the expiration date printed on the can.
Documents
Commercial invoice
A commercial invoice is required and must describe the goods in French. No special invoice form is necessary. Certification of country of origin is required. Payments are made through bank-to-bank irrevocable letters of credit. Pro-forma invoices must be provided in most cases.
Invoices on company letterhead are required for both import licenses and foreign exchange transfers. 'To order' bills are acceptable as bills of lading. When sending promotional material, especially promotional videos, state in French 'Promotional use only' and 'No Commercial Value'.
Goods imported under a temporary entry provision must be approved by decree of the Finance Ministry. Customs may authorise entry of goods on an individual basis. The limit for temporary entry is six months, renewable for up to one year.
Sources:
http://www.doingbusiness.org/data/exploreeconomies/morocco/
http://www.douane.gov.ma/web/guest
http://www.maroc-trade.gov.ma/Englais/home.asp
https://www.wto.org/english/thewto_e/countries_e/morocco_e.htm