Sidebar
Export from Pakistan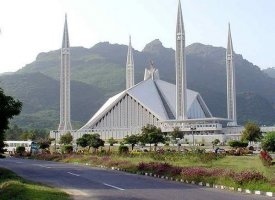 Pakistan is considered as a developing country and is one of the Next Eleven, the eleven countries that, along with the BRICs, have a high potential to become the world's largest economies in the 21st century.
Primary export commodities of Pakistan include textiles, leather goods, sports goods, chemicals and carpets and rugs.
Pakistan is a net food exporter, except in occasional years when its harvest is adversely affected by droughts. Pakistan exports rice, cotton, fish, fruits (especially oranges and mangoes), and vegetables. The country is Asia's largest camel market, second-largest apricot and ghee market and third-largest cotton, onion and milk market.
Pakistan's industrial sector accounts for about 24% of GDP. Cotton textile production and apparel manufacturing are Pakistan's largest industries, accounting for about 66% of the merchandise exports and almost 40% of the employed labour force. Other major industries include cement, fertiliser, edible oil, sugar, steel, tobacco, chemicals, machinery, and food processing.
The textile industry has the main position in the exports of Pakistan. Pakistan is the 8th largest exporter of textile products in Asia. Pakistan is the 4th largest producer of cotton with the third largest spinning capacity in Asia after China and India, and contributes 5% to the global spinning capacity. China is the second largest buyer of Pakistani textiles, importing US$1.527 billion of textiles last fiscal. China buys cotton yarn and cotton fabric from Pakistan.
Pakistan is one of the largest producers of natural commodities, and its labour market is the 10th largest in the world. Pakistan's main export partners are Afghanistan, China, France, Germany, Italy, South Korea, Turkey, United Arab Emirates, United Kingdom, United States.
Pakistan's main exports are:
House Linens
Non-Retail Pure Cotton Yarn
Rice
Non-Knit Suits
Refined Petroleum
Cotton
Cement
Leather Apparel
Knit Sweaters
Import to Pakistan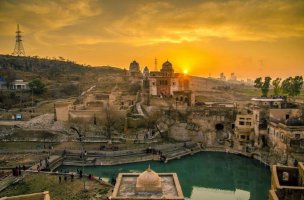 Pakistan is a rapidly developing country and is one of the Next Eleven, the eleven countries that, along with the BRICs, have a high potential to become the world's largest economies in the 21st century. However, after decades of social instability, as of 2013, serious deficiencies in macromangament and unbalanced economics in basic services such as train transportation and electrical energy generation had developed.
The economy of Pakistan is semi-industrialized, with centers of growth along the Indus River. According to the World Bank, Pakistan has important strategic endowments and development potential. The increasing proportion of Pakistan's youth provides the country with a potential demographic dividend and a challenge to provide adequate services and employment.
Pakistan's economy is the 26th largest in the world in terms of purchasing power parity (PPP), and 41st largest in terms of nominal Gross Domestic Product. Pakistan's undocumented economy is estimated to be 36% of it's over all economy, which is not taken into consideration when calculating per capita income. Pakistan is a developing country and has a potential to become one of the world's large economies in the 21st century.
The Government of Pakistan has granted numerous incentives to technology companies wishing to do business in Pakistan. A combination of decade-plus tax holidays, zero duties on computer imports, government incentives for venture capital and a variety of programs for subsidizing technical education, are intended there.
Major imports of Pakistan are mineral fuels and manufactured goods. Others include beverage, tobacco, petroleum and petroleum products, vegetable oil, chemicals, fertilizer, capital goods, wheat, pulses, consumer foods and industrial raw materials. Major trade and import partners of Pakistan are China, United Arab Emirates and Saudi Arabia.
Pakistan's main imports are:
Refined Petroleum
Crude Petroleum
Palm Oil
Cars
Coal Briquettes
Scrap Iron
Broadcasting Equipment
Telephones
Raw Cotton
Cyclic Hydrocarbons
Deciding what to gift when that occasion is around the corner is not that easy. Export Portal Gifts and Miscellaneous Articles Department will help you find the right gifts for your loved ones, friends or colleagues. Browse gifts online by occasion, style, type, brand name and more to discover the best presents for men, women, boys and girls.
ExportPortal.com features an extensive variety of gifts and miscellaneous articles like Flowers, Cakes, Home & Kitchen items, Electronics, Watches, Wine,Bags, Fragrances, Books, Beauty products, Jewelery, Baby and Kids products, Photo related gifts and even more.
Gifts for Women:
Everybody loves gifts, especially women. Gone are the days when only flowers, chocolate or jewelry could make a woman happy. With changing times a lot of ideas have been added to "what to gift a woman" list. At Exportportal.com you can browse through a wide selection of items that are suitable to be gifted to any girl or woman. Choose from a broad range of items like cosmetics, bags, perfumes, mobiles, tablets, iPods, jewelry, digital photo frames and other gifting options from our online marketplace.

Gifts for Men
It is a wrong notion that men do not like gifts or presents. Men like gifts as much as any woman and the fact of giving him a present can bring a big smile on his face. Make the man in your life, your husband, father, brother, friend, colleague etc feel special by selecting a gift for them from Export Portal.

Discover our awesome selection as Export Portal's range is very admirable and exhaustive. Get to choose from perfumes, wallets, tablets, mobiles, watches, books, grooming appliances, premium pens, shirts, ties & cufflinks and even more.
Gifts for Children
Gifts and presents are one of the best ways to bring a smile on any child's face. When choosing a great gift for that special child in your life, it is very important to find a gift as per his/her age and requirement.

By shopping online for gifts for kids you can not only get an array of options to choose from but you also can compare the prices and brands. Choose from personalized clocks, stuffed toys, board games, cushions, kid's bags, dough kits, color kits, case of munchies, cricket sets, and even more.
If you shop online with Export Portal you can be assured you will get the best of the options in gifting at the most reasonable prices.
Customs requirements of Pakistan
Pakistan Customs Contacts
Federal Board of Revenue of Pakistan
Website: http://www.fbr.gov.pk/
E-Mail: helpline@fbr.gov.pk
Telephone: 051-111-227-227
Fax: 051-9205593
Pakistan is a country situated in South Asia, bordered by Afghanistan, Iran, India and China. It is the sixth most populous country in the world. Pakistan is a federal parliamentary republic consisting of four provinces and four federal territories. It is an ethnically and linguistically diverse country, with a similar variation in its geography and wildlife. Pakistan is a memeber of the Economic Cooperation Organization, Group of 24, International Chamber of Commerce, World Customs Organization, WTO, International Monetary Fund, International Organization for Standardization and other international organizations.
Tariffs
The government of Pakistan is implementing a program of tariff reduction in line with obligations that are part of the World Trade Organization entry. The general tariff rate is expected to drop to around 30 per cent.
Non-tariff barriers
Items banned for import to Pakistan include:
items that may be repugnant to the injunctions of Islam;
dyes based on benzidine or containing it;
hazardous wastes, as defined and classified in the Basle Convention;
alcoholic beverages and spirits, including brewing and distilling dregs and waste and wine lees and argol;
factory rejects and goods of job lot, stock lot or substandard quality job lot and stock lot of items where the customs duty is zero%;
fireworks, fur skins, waste and scrap of polyethylene and polypropylene plastics, retreaded tyres, used pneumatic tyres;
imports from India have restrictions and only those items can be imported that are specified under the Import Trade and Procedures Order (Appendix B).
Certain restricted items can be imported only if the stipulated conditions are met. Most of the restricted items need prior approval or certification from the relevant government agency. Some of the main items include:
animal semen
tobacco products
radioactive material and apparatus
seeds
calcium carbide
asbestos
food colours
dyes
explosives
insecticides
Wheat is now importable by the private and public sector. Government has recently imposed a duty of 20% on the import of wheat to discourage wheat import and protect local produce.
Labelling and marking
Packaging should be conspicuously marked with the country of origin and the name of either the manufacturer or the importer. For textiles this is especially important and the yardage, width and length (if in roll) should also be clearly marked.
Dyes and chemicals must be marked with a full description, including quality and code numbers.
Packets of cigars, cheroots, cigarillos and cigarettes of tobacco or of tobacco substitutes should carry the warning: 'Smoking is injurious to health'.
Food colours must carry fair and true labelling about the product.
Labels on packages for edible products should show that they have at least six months or 50% of the shelf life, whichever is the lesser, calculated from the date of filing of Import General Manifest (IGM) and also that they are free of Haram elements or ingredients. Where these conditions are not printed on the packaging, certificate issued by the manufacturers or principals in respect of these conditions shall be accepted by customs.
Special certificates
Livestock must be accompanied by a sanitary certificate issued by the approved authority in the country of origin.
All plants and plant products, except fruit and vegetables, require a phytosanitary certificate issued by the approved authority in the country of origin.
Hay or straw used as packing material for plants or seeds must be covered by the phytopathological certificate issued by the approved authority in the country or origin.
Leaf tobacco must be covered by additional certification indicating that it is free from ephestiam elutella or that this pest does not exist in the country of origin.
Used clothing should be accompanied by a certificate of cleanliness signed by a physician with the letters MD following the signature.
A special certificate of alcoholic strength may be required for imports of spirituous beverages.
A supplier's certificate or quality and price are required for certain items.
Methods of quoting and payment
Quotes should be cost and freight (C&F) port of delivery in US dollars. Payment must be made by irrevocable letter of credit.
Documentary requirements
Commercial invoice
No prescribed form. Three copies are required.
Invoice must be signed by the manufacturer or shipper and must show:
names of consignee
vessel carrying the goods
number and description of packages
serial numbers or other identification
value of goods C&F (freight charges to be shown separately)
country of origin.
Except where it is not possible to do so (bulk items or where products are marketed under generic names) the invoice shall give the brand name of the product being imported.
A signed declaration of origin is required.
Bill of lading/airway bill
To Order bills are acceptable and must show:
gross weights and dimensions in metric units
name and address of the party to be notified.
Packing list
Not obligatory, but facilitates clearance.
Certificate of origin
Although not legally required, the importer or their bank frequently requests this document. If not provided, a statement of origin should appear on the invoice.
Public health requirements
The import of livestock, plants and plant material is subject to specific regulations.
New pharmaceutical preparations not previously imported require the prior approval of the Pakistani Director-General of Health. For this approval, the Director-General requires, free of cost, a supply of the preparation to treat about 60 patients. Pharmaceutical industries holding valid licenses are permitted to import pharmaceutical raw material subject to the condition that pharmaceutical (allopathic) raw materials are of pharmaceutical grade and have at least 75 per cent of the shelf life calculated from the date of filing of IGM. Pharmaceutical raw materials specifically allowed by the Director-General are exempt from the above requirements. Import of pharmaceutical products is subject to the conditions and limitations laid down in the Drugs Act 1976.
Calcium carbide, whether or not chemically defined, requires prior approval of the Department of Explosives. Used or refurbished cylinders (for compressed or liquefied gas) for use in motor vehicles need a safety certificate from the Department of Explosives.
Arms and ammunition not otherwise banned would require authorisation from the Ministry of Commerce.
Ingredients for formulation or manufacturing of pesticides are importable only by industrial users.
Insurance
The importer must arrange insurance through an insurance company registered in Pakistan.
Sources:
http://www.wipo.int/wipolex/en/text.jsp?file_id=189220
http://www.pakistancustoms.net/2014/01/documents-required-for-import-in-pakistan.html
http://www.tdcp.gop.pk/tdcp/TravelGuide/CustomsRegulations/tabid/164/Default.aspx