Sorry!
Your search did not match any word(s).
Follow our simple search tips for improved results. Feel free to contact us for any assistance. Just click the button below.
Search tips:
- Check the spelling;
- Use different keywords and word combinations;
- Remove filters to clarify the search.
Export from Seychelles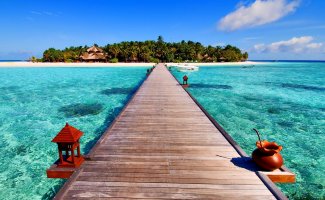 The economy of the Seychelles has expanded to include a variety of industries, with tourism becoming a particular focus. However, in the early days of its development, the collection of islands known as the Seychelles thrived on exports. Most of the money in the islands came from selling the goods that were harvested on plantations.
Despite the growth of tourism, farming and fishing continue to employ some people, as do industries that process coconuts and vanilla. The prime agricultural products currently produced in Seychelles include sweet potatoes, vanilla, coconuts and cinnamon. These products provide much of the economic support of the locals. Frozen fish and canned fish, copra, cinnamon and vanilla are the main export commodities.
Seychelles exports are heavily dependent on the fishing industry (90 percent of total exports). As a result, main exported products are: tuna (50 percent of total exports), prawns, fish, processed fish, non-fillet frozen fish, fish oil. Other exports of Seychelles are animal meal, cement and pellets.
Seychelles' main export partners are France and United Kingdom, Italy, South Africa, Japan and Germany.
Import to Seychelles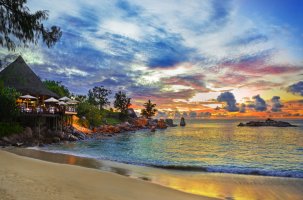 Seychelles' trade is based on fishing, tourism, the processing of coconuts and vanilla, coir (coconut fiber) rope, boat building, printing, furniture and beverages. Agricultural products include cinnamon, sweet potatoes, cassava (tapioca), bananas, poultry and tuna. The national currency of Seychelles is the Seychelles rupee.
The public sector, comprising the government and state-owned enterprises, dominates the economy in terms of employment and gross revenue, employing two-thirds of the labor force. Government consumption absorbs over one-third of the GDP.
Since Seychelles' independence in 1976, per capita output has expanded to roughly seven times the old near-subsistence level. Growth has been led by the tourist sector, which employs about 30% of the labor force and provides more than 70% of hard currency earnings, followed by tuna fishing. In recent years the government has encouraged foreign investment in order to upgrade hotels and other services.
Despite attempts to improve its agricultural base and emphasize locally manufactured products and indigenous materials, Seychelles imports 90% of the food it consumes. The exceptions are some fruits and vegetables, fish, poultry, pork, beer, cigarettes, paint, and a few locally made plastic items. Imports of all kind are controlled by the Seychelles Marketing Board (SMB).
Seychelles' main imports are petroleum products (25 percent of total exports), machinery and manufactured goods, non-fillet frozen fish, recreational boats, planes, helicopters, spacecraft, broadcasting equipment, computers.
Seychelles main import partners are Saudi Arabia, South Africa, France and Spain.
Buying Cattle is an important part of raising cattle and adding money to your business. Export Portal Live Animals Department is an online market for sellers and buyers of any type of livestock.
The portal features a wide range of pigs, cows, sheep, goats, horses, rabbits and hares, turkeys, bees and fish for sale. An increasing number of the American, Australian, German, South African, Argentinian or Italian farmers and companies are daily advertising their livestock with Export Portal.
To help you make a more informed purchasing decision, you can refine your livestock search by age of the animals, breed and sex. Check also detailed live animal seller ratings as well as seller reviews written by buyers and customers. We also collaborate with hundreds of trusted international shipping companies that arrange transport of all kinds of animals and birds to any country in the world.
Export Portal is your one stop destination for all your shopping needs.
Customs requirements of Seychelles
Seychelles Customs Contacts
Website: http://www.src.gov.sc/Default.aspx
Email: customs@src.gov.sc
Address: Seychelles Revenue Commission, P.O. Box 408, Victoria, Mahé, Seychelles
Telephone: +248 4293758
Fax: +248 4225768
Seychelles is an archipelago and country situated in the Indian Ocean. It's nearby neighbours Comoros, Mayotte, Madagascar, Réunion and Mauritius. Seychelles is a member of the African, Caribbean, and Pacific Group of States, Common Market for Eastern and Southern Africa (COMESA), International Trade Union Confederation, WTO (observer) and other international organizations.
Importing of Goods
All goods can be classified under the Harmonized System Nomenclature which is the basis for the classification of goods by importers, exporters, shipping companies and marine insurance companies. In Seychelles it is published as Schedule 3 of the Customs Management (Tariff and Classification of Goods) Regulations 2013. The first 6 digits of the code are common to all countries that use it and the last 2 digits are allocated by Seychelles policy makers. This code gives the rate of Trades Tax applicable.
The following taxes are collected at the point of entry on importation by Customs Division on behalf of Seychelles Revenue Commission:
import tax
VAT
excise tax
For example: cotton handkerchiefs are classified under HS Code 6213.2000 on which 25% Trades Tax applies and has a 15% VAT. The value of imported goods is based on the purchase price adjusted to a CIF level. The purchase price is an open market price where the buyer and seller are at arms length (the commercial value).
Levy is also payable at the point of entry at Customs Division. It is calculated on value or quantity. Levy is applicable on the importation of the following goods:
Vehicles
Chicken
Pet bottle
Plastic
Canned beer
The importers will need the following documents:
Original Invoice
Packing List
Bill of Lading or Airway Bill, and
Insurance Certificate
Import Permit (if applicable)
Prohibited goods
The following goods are listed as a sample of prohibited goods:
Arms and ammunition
Controlled drugs
Toxic chemicals e.g. asbestos and dieldrin
Counterfeit currencies
Military uniforms
Pornographic or indecent material
Bodies for motor vehicles
Part and accessories for motor vehicles
Sources:
http://www.src.gov.sc/pages/customs/importandexport.aspx#Documentation
http://www.src.gov.sc/pages/customs/customs-Prohibited.aspx
http://www.seychelles.travel/en/plan-your-visit/travellers-essentials/customs-formaliities