Framework for Effective Global Trade
Trade Management
Due to the emphasis on regulatory compliance, enforced with penalties and removal of benefits, the industry is left with little choice but to build a robust import and export control program. They also need to demonstrate to the government the efficiency and consistency of these controls. One of the biggest challenges associated with following the new regulations is the fact that most of the data is dispersed in the supply chain and held by various partners. Trade partners will need to collaborate and create a robust process-oriented framework, backed by appropriate technology and standards. In a survey conducted by World Trade Magazine, almost 70% of automotive and industrial manufacturers felt the need to improve their global trade processes to combat cost savings erosion.
Figure 5 .
Action Points Export Portal focuses on Better Trade Management
Export Portal is bringing together the various supply chain partners on a common platform. This is because all gaps in the chain will need to be closed to ensure effective security and compliance. Also, any one player will not have all the data required for filing. Supply chain movement data is usually spread among importers, exporters, carriers, customs, freight forwarders, etc. For instance, while the importer will know its AEO status and the goods commodity code, the exporter will have information on the consignor, contents, type of packaging, transport charges, method of payment, dangerous goods code, etc. The forwarder will have additional elements related to the transaction booking, while the carrier will provide details of transport and referencing. Setting up a common platform and facilitating "straight-through" information from the party that owns the information will ensure both timely and accurate filing.
Figure 6
depicts the typical data that needs to be captured for the efficient management of trade.

Figure 6.
Data Requirements for Effective Trade Management
A considerable gap exists between best-in-class operators and the rest of the industry in the consistency of processes and the consolidation of activities across the organization. Best-in-class companies improve their manual process by using pilot programs and then standardizing best practices across the organization. This is followed by extensive automation to leverage technology for realizing the benefits and aiding continuous improvements. Various tools — such as trade agreement planning solutions, classification engines, solutions for managing shipment information like country of origin and certificates of origin - are deployed for streamlining process flows and increasing automation. Export Portal works hard to bring these companies on a common platform and have them cooperate towards a common goal.
A large number of players in the industry run their processes in a disconnected and divisional manner, supported by multiple systems that require a good deal of manual effort to synchronize the complete supply chain. In contrast to leading players, Export Portal has standard processes across the entire transaction, measured with standard metrics, as well as the ability to obtain a single view of all operations aided by automation with integrated systems and a common set of data. This also enables cross-functional workflows and alerts. The end goal for companies should be to automate the physical and financial supply chain processes not only within the organization but even beyond the four walls of the enterprise to vendors, brokers, forwarders, carriers and the like. Figure 7 captures the guidelines to be followed for implementing a robust process-oriented framework for improving global trade.
Leveraging IT to Stay Ahead of the Curve
Export Portal believes that technology is one of the strategic levers for organizations involved in global trade for realizing improved and effective operations and gaining a competitive edge. To be able to handle complex and rapidly changing business scenarios, IT systems for global trade should have the following features incorporated into them:
• Flexible and open layered architecture.
• Tight integration with multiple stakeholders across the supply chain.
• Closed-loop feedback mechanism for resolution of issues.
The principal characteristic of the global trade supply chain is its dynamic nature. With ever-changing business scenarios and the detection of new threats for supply chain security, it can be expected that rules and regulations will continue to evolve. Although the WTO offers standards for formulating new regulations, standardization of global trade processes across nations is still quite a way off. Export Portal believes that it is essential for organizations to have more points of flexibility in the trade platform they use to be able to accommodate future scenarios. As an integrated system for managing global transactions, Export Portal makes this possible for all its users.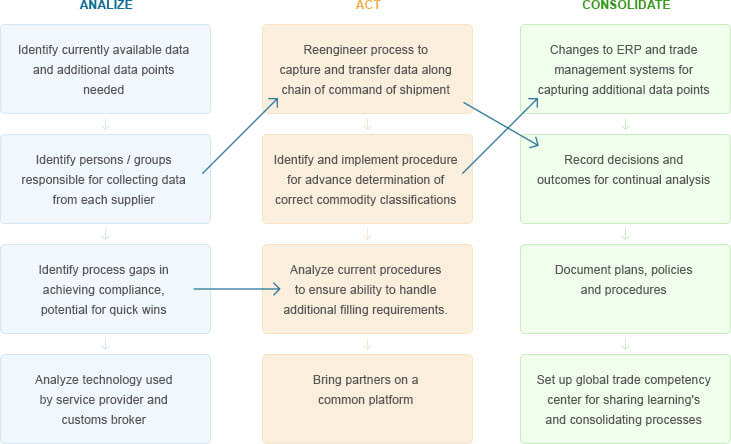 Figure 7.
Strong process-oriented framework for improving global trade